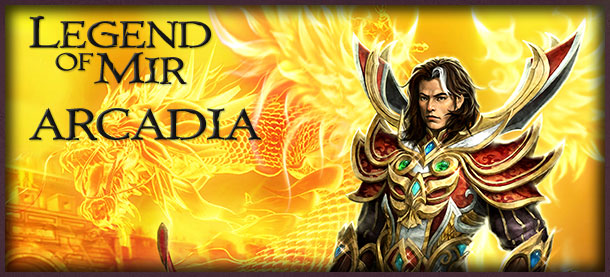 The Legend of Mir Arcadia
Legend of Mir Arcadia Mir II – a free to play without limitation MMORPG based in an ancient oriental world filled with eerie dungeons and fiery dragons. Hundreds of players fighting side by side, exploring dangerous dungeons and fantastic cities… Mir Arcadia is completely free to play up to any level.
✓ Three character classes: Warrior, Wizard and Taoist
✓ Simple to manage skill trees
✓ Engaging mix of melee, ranged and magic combat
✓ Straightforward crafting and loot system
✓ Item exchange and in-game auction house
✓ PvP, PvE, guilds, or co-op; play how you like
✓ Deep quest system takes you to distant lands
✓ World of persistent dungeons for all levels of players
✓ Low barrier to entry for new players

The Three Heroes of Arcadia
The heroes of Arcadia are a team of powerful Warriors, Mages and Taoists. Together, they will conquer evil and protect the humans of Mir from the might of demons.
Warrior
Disciplined in the art of close-quarters combat, the Warrior can deliver devastating melee attacks with unstoppable force as the front-line soldiers on the battlefield…
Wizard
Highly skilled masters of the magical energies, the Wizard possesses the unique ability to control the elemental forces and bend them to their will..

Download Mir Arcadia
Legend of Mir Arcadia. Free to play, no limitations. Download the software installer below and begin installation. This will also allow you to play the Project69 Server, Arcadia's big sister!
Once you have downloaded the installer, simply run and wait until the process has completed. If you receive any errors please refer to the following forum help guide. Try running in compatibility mode for Windows XP SP3 and as an administrator.