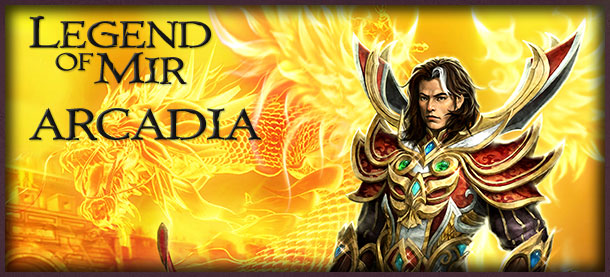 FAQs (Frequently Asked Questions)
Question:
I'm receiving an error message when using the autopatcher
"C:\Program Files (x86)\Legend of Mir 2\Update\Mir2.exe" file needs admin rights. (5)", what do I do?
Answer:
Certain files require administrative access in order to be loaded correctly on your machine.
Please follow steps 2 & 3 from the How to Connect forum guide.
Question:
I'm receiving an error message when using the autopatcher
"http://www.mirarcadia.com/update/!klist.txt" Unable to connect.(98)", what do I do?
Answer:
Something is blocking your connection to the Mir Arcadia website, it could be your Firewall or even the settings of your router may be configured to block the connection.
Please follow step 4 from the How to Connect forum guide.
Question:
The game won't launch, every time I try I get the error message "File already in use.", what do I do?
Answer:
You may already have the game open, or the file is locked in memory.
Simply reboot your computer.
Question:
Whenever I try to join the server, it says "Unable to connect" at the login screen. What do I do?
Answer:
The server may be down temporarily for maintenance or updates. During this time you will be unable to connect until further notice. Keep up to date with any scheduled maintenance or updates requiring a reboot on the Mir Arcadia Facebook Page, or the Forum Page.
Some updates may only require a short reboot, the server admin will notify members in game of any potential upcoming downtime also.
Question:
My game has black bars at the side when I run this in Full Screen mode, how do I fix it?
Answer:
Most black bar errors are accredited to a display driver error, or that they may not have been setup correctly. Your monitor's aspect ratio may also be a factor.
For more information on this, please visit the screen resolution discussion on the Forum.
You can cycle between full screen and windowed mode using ALT + Enter.
Question:
I recently purchased GameGold but haven't yet received it. How long does it take?
Answer:
GameGold purchases can take up to 72 hours (or more) to be transferred over to your account. It is vitally important that you ensure you have selected the correct server you are playing on, and double check the spelling of the character name you wish the GameGold to be transferred to. If you have had any issues with receiving your GameGold, please Contact Us.
Important: You will never be asked by a GameMaster for any login details, the transfer process is automatic.
Question:
I've forgotten my password / username to my account, is there a way I can get them back?
Answer:
Our account creation, activation and retrieval services are automatic – full details can be found in the Account section. If you have forgotten your Username & Password, you may be able to recover your account, providing you have access to the e-mail address linked to that account.
Question:
My account has been suspended. Can I get back in?
Answer:
Server admin may suspend any player from accessing an account at their discretion. Violation of the rules may result in a temporary or permanent suspension of your account. If you believe a mistake has been made, please Contact Us and we will investigate.
Question:
I'm unsure where are the best places to level up, any suggestions?
Answer:
There are many members of the community often willing to assist others with their knowledge of the game. But don't be disheartened if they do not wish to share this information as many wish to utilise these secrets to their advantage. It is highly recommended to explore each region, holding CTRL over targets will display information on their level, attack & defense stats. For those between levels 50-120, you may wish to speak with Ashley for a rough guideline on some recommended locations. She can be found in the Bichon Wall safe zone near the bridge.
Question:
I'm looking for skill books for my level but I can't find any, any ideas?
Answer:
As is the case with most items, you will tend to find particular skill books in areas relative to the level of the book itself. For example, if you are hunting for a level 100-105 spell book, there is a good chance you will find this in a level 100-105 area. Generally guarded by the dungeon's boss, but some areas, even the minions can be holding them. Some books may be hidden and only a certain selection of monsters/bosses may hold them. Some books may have missing pages that you must find. For a rough guideline on finding books for a levels 120 and below, Ashley may offer some hints.
Question:
I'm not too sure which Arcamon I should choose to progress. Any suggestions?
Answer:
There are a wide variety of different Arcamon to choose from, each with their own unique skills and abilities.
Please see the Arcamon Guide for further details.
Did you find what you were looking for?
If not, feel free to ask the community on the Forum Page. It takes two minutes to register and it's absolutely free! If you wish to contact the Mir Arcadia staff, you can Contact Us directly.